Many of us are now working from home post-pandemic, and the often overlooked, but fundamental element of a home office set up, the humble office chair, is now top of mind as we sit on uncomfortable kitchen table chairs, or old office chairs put out to pasture from the office, trying to get through the work day.
In a bid to move out of our makeshift home office spaces and into a more established home office, many of us are guilty of buying the cheapest, fastest, easiest option, resulting in a quick trip to the closest bargain office supplies retailer to pick up their standard black, budget number. And whilst this might make your bank account feel great, it may be a different story for your back and mind. Those that suffer with chronic back pain can attest to its impact on their sense of wellbeing and mental health, but for the rest of us, how can a simple office chair make such a big difference on your mental and physical self?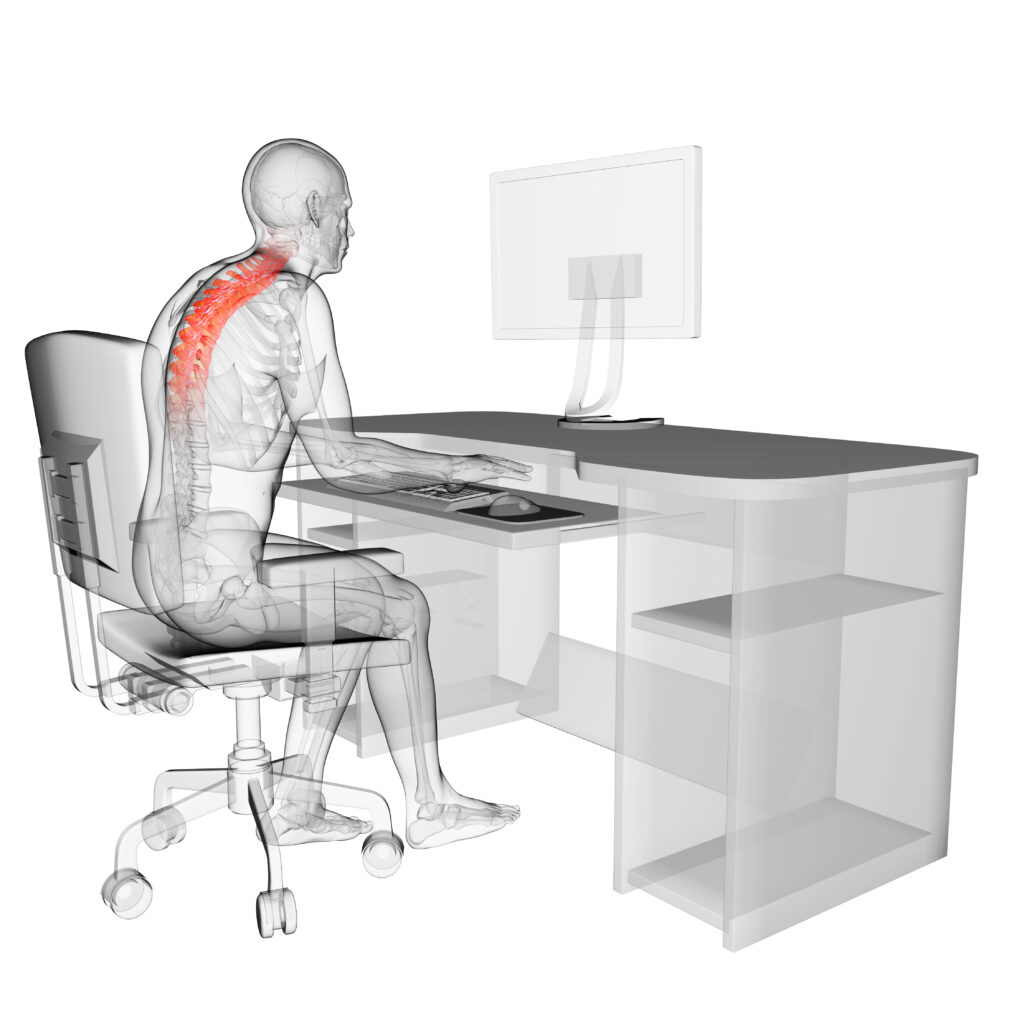 Well, posture is everything.
According to BetterHealthVic, the complications associated with poor posture can include back pain, spinal disfunction, joint degeneration, rounded shoulders and a pot belly [1] (yes, a pot belly, you read that correctly). It can also disrupt your digestion, lead to spine curvature, headaches, jaw pain and contribute to poor quality sleep [2].
Global research has also shown that posture can directly impact your mental health. A study from San Francisco State University showed that students with poor posture reported higher rates of depression and lower energy levels [3]. Another study by Wilson and Peper, demonstrated that sitting up straight improved symptoms of anxiety, stress and depression and that positive memories were easier to recall when sitting up correctly. In this same study, researchers found that when slouched, participants were more likely to recall negative emotions and memories [4].
By why?
With a known (and proven) link between posture and physical and mental wellbeing, why does terrible posture make us feel bad in our bodies and in our minds?
Incorrect posture can inhibit blood flow and consequently, create blood vessel constriction. This can cut off oxygen supply to bones and muscles and impact both short- and long-term muscle strength. Poor posture also confuses the body's proprioception system and contracts specific muscles to provide greater support to the body, leading to muscle fatigue and general feelings of tiredness [2].
Aside from the impact of dealing with ongoing pain and discomfort, an idea called embodied cognition, also suggests that our posture can influence our mental health, with feelings of sadness or anxiety a result of our posture, not simply a cause of it [5].
So you see, posture is everything. And supporting a posture conducive to a healthy body and mind in your home or work office is worth more than a quick dash for the cheapest office chair. Alex Zanda chairs are ergonomically designed to promote spinal support for the individual and are made in Sydney, Australia. With a huge range of fabric, frame and mechanism selections in four key Alex Zanda office chair designs, you'll find a piece of Australian design that keeps both body and mind aligned. View the full range at www.alex-zanda.com.
---
1. BetterHealthVic, Posture Fact Sheet, 2015, https://www.betterhealth.vic.gov.au/health/conditionsandtreatments/posture
2. Casteneda, 2022, US News, How bad posture can harm your health, https://health.usnews.com/wellness/slideshows/ways-bad-posture-can-harm-your-health?slide=4
3. Nair, Sagar, Sollers 3rd, Consedine, Broadbent 2015, National Library of Medicine, https://pubmed.ncbi.nlm.nih.gov/25222091/
4. Wilson, Peper, 2004, National Library of Medicine, The effects of upright and slumped postures on the recall of positive and negative thoughts, https://pubmed.ncbi.nlm.nih.gov/25222091/
5. Good Medicine, 2017, Embodied Cognition: Postures and feelings, http://goodmedicine.org.uk/stressedtozest/2011/02/embodied-cognition-posture-feelings